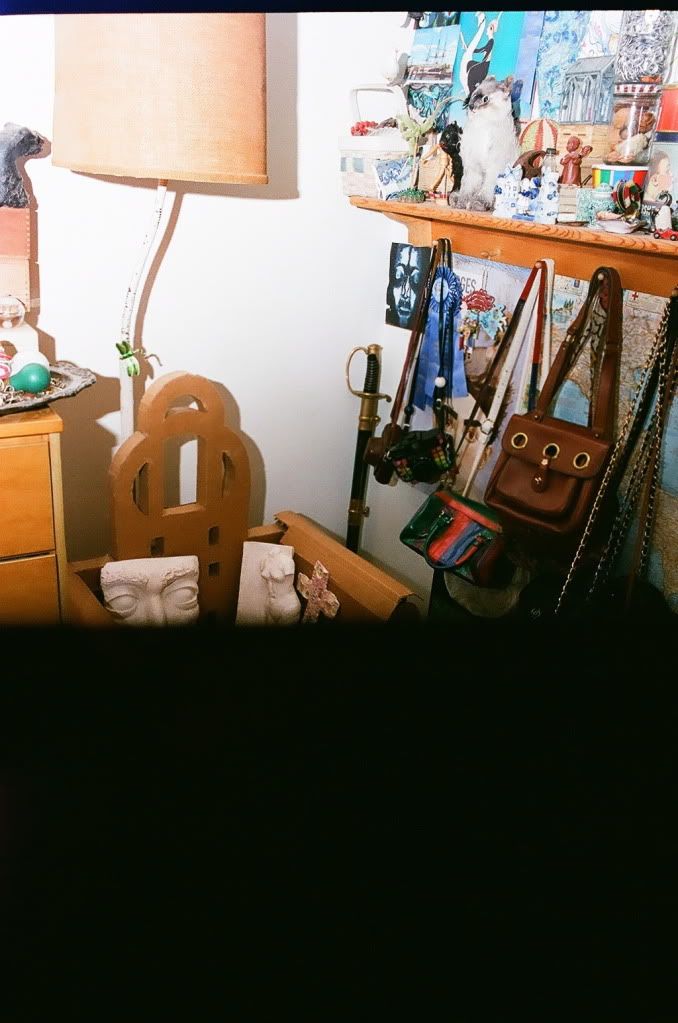 You have asked me some questions and here are some answers.
Firstly, I must apologize to the person who is always wanting to see my cardboard chair because I took some pictures of it and was stoked to finally post them but when they were developed (this afternoon) they only half turned out. So here is half of the chair. I should have some pictures of it on the next roll of film I get developed so fingers crossed that those shots will turn unout well.
Also there is a half picture of my room with it's new white walls and a painting on loan from Thomas Tulis.
Secondly - the shoes two posts ago were thrifted mens shoes that I did stud myself. I bought a 100 pack of studs on Ebay for $5 and it was very easy to put them all over whatever I wanted.
You should try it.
Here are some good fashion and art sights.
Art
Igor and Andre
- fashion illustration
Cessna Decosimo
- My Mentor/teacher: a classic figure sculptor
Anahata Katkin
- Great mixed media
Photography
Pattern Clash
Sacha Hilton
Hedi Slimane Diary
Noah Kalina
Claire Sloan
Fashion
Elin Kan
The Streets Walker
- the most wonderful street fashion blog
Facehunter
The Sart
Arvida
Garance Dor
Jak & Jil
The New Kid
There are a lot of links at the bottom of my page so you can check those out as well.
So now I have some questions for you. Do you know of any places I should visit/shop at in NY or Boston?